ABOUT RICK BALDWIN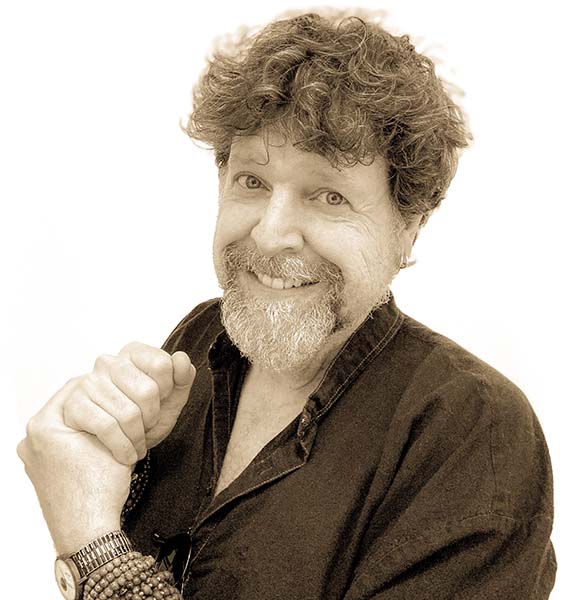 I've spent over half a century exploring a spiritual life. It hasn't always been easy and the results have rarely been what I expected. It isn't necessary for anyone interested in working with me to know my personal story, however, as an introduction, please allow me to use this space for a brief bio.
I was born and raised in Knoxville, Tennessee, and spent my youth in a fairly conservative, Southern Baptist, Christian environment. Early in my life, I felt an inner "call" into the ministry and I assumed I would one day become a church pastor. Later in college, I decided my career would be in Christian theatre or performance so I studied acting, directing, and scenic art alongside my religion and theology classes.
Most of my early spiritual interests involved the writings of the Christian mystics: the Desert Fathers, Thomas Merton, and Meister Eckhart. it wasn't until I discovered a book by Joel S. Goldsmith that my whole world cracked open. I describe it often as "walking through a mirror" and it was during that time I first experienced inner direction, almost as a voice, to the point I could ask a question inwardly and, soon after, an answer would come back to me. I was a student of Joel Goldsmith's Infinite Way for over 10 years and in the early 1990s, worked closely under the direction of Joel's former student and Infinite Way teacher, Barbara Mary Muhl. Other teachers who greatly influenced me during this time were Anthony deMello, Eknath Easwaran, Thich Nhat Hanh, Matthew Fox, and Charles and Myrtle Fillmore.
The next major step in my spiritual journey came in the early 2000s when I came across the work of Eckhart Tolle. It was through Eckhart's teachings, and upon the foundation I had built in my Goldsmith study, that I finally had a major breakthrough in my practice of meditation. For me, meditation finally transitioned from practice to an art.
A few years after my meditation breakthrough, I had an experience in meditation that brought me to the realization that there is no god. That unexpected revelation led to 10 years of wonderful, inner peace and clarity. Certainly not something my Southern Baptist teachings taught me would be the case! During this ten-year spiritual "fast" I put away all of my studies, rarely meditated, and assumed I was finished with all things spiritual. As might be expected, my life often felt like I was coasting on a ship with no rudder. I didn't live under the same sense of spiritual direction I had for my entire life, so it was a very strange and odd feeling but also a life I knew I would eventually get used to.
At a certain point, a new inner impulse to begin meditating again stirred within me. I had no desire to return to a spiritual life so I assumed I could make a non-spiritual meditation practice, similar to the method taught by philosopher Sam Harris. My meditations quickly picked up where they left off 10 years before. And with a reconnection to Eckhart Tolle's work and a new discovery of the teachings of Rupert Spira, I began experiencing even deeper meditations. I eventually experienced what I can only describe as a separation of the mind and the self. At the time, I wasn't fully aware that this would be the beginning of experiencing everything I had searched for spiritually. It was also the beginning of the realization that my entire spiritual journey had brought me back to a place I had never left. I went away to discover I had never gone anywhere and I had finally acquired that which I had never been without. Often I have felt the revelations of the spiritual life are like a practical joke being played on the seeker. My mind hasn't changed about that.
MY METHOD
Spirituality is a very personal and unique path. While we all end up in the same place, we each take completely different transportation services, so to speak. It's important for a spiritual advisor to become familiar with where you are, where you are going, and how you are getting there. My role is more of a helper, guide or pointer than a guru. I will not "take the wheel" from you but I can serve as a kind of GPS device if you are lost. It may become apparent that I am not the guide you need. That is understandable and acceptable. The relationship between teacher and student is non-binding, no obligation, and without demands. My commitment is to your growth, your healing, your enlightenment. I will bring presence to every encounter as well as a decent amount of humor.
I am a full-time artist, which gives me a flexible schedule and allows me to write, meet with people, conduct meditations, and teach workshops. I am available for in-person, one-on-one consultation if you live in the Atlanta area or through email and video conferencing if you live elsewhere. Currently, spiritual work is strictly on a donation basis, which can be money, art, poetry, or simply giving a coat to someone without a coat. It is very important when you spiritually receive, to release something back into the world. However you choose to donate is up to you and not something I will concern myself with.
I do not teach or consult from any specific religion or spirituality. While my own journey began in Protestant Christianity, I also have a background in western and eastern spirituality, metaphysics, mysticism, and non-duality. I am welcoming and accepting of all religions, backgrounds, races, nationalities, regions, sexualities, genders, and beliefs. The only necessary requirement is a willingness to be open-minded and a capacity to self-examine.
The most important experience on the spiritual journey is discovering the truth of who you are and allowing everything to unfold from that awareness. The best method to initiate this is meditation. I offer guided meditations or simply meditation in silent present awareness. Learning to reside in the present moment, as ever-present awareness is the object of my instruction. When you experience that, you will no longer require a teacher